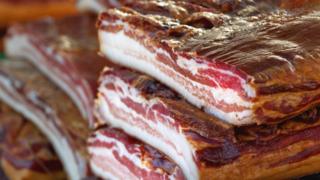 Is fat the great evil of our time responsible for seducing us into an early, extra-wide, grave with its delicious succulence?
Or is it as misunderstood as it is mouth-watering? And in need of a welcome return to our plates?
As the campaign against sugar has ratcheted up over the past year or two, there have been growing voices trying to redeem fat.
For decades it has been labelled public enemy number one and a "low-fat" food label is used to convince us that what we're buying is healthy.
The problem is low-fat can entail vegetables or simply clever marketing for "we took out all the fat and then pumped it full of sugar".
So there I was having a moment in the supermarket – a tub of low-fat yoghurt in one hand and a full-fat one in other – pondering which was actually better for me.
If I had a third hand, it would have been scratching my head. And I'm not alone.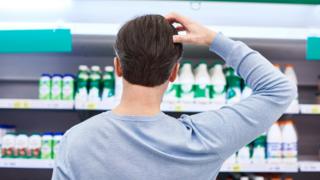 "When there's a huge wall of yoghurt, even I find it paralysing, " said Susan Jebb, a nutrition professor at the University of Oxford.
When you take the fat out of products, especially dry ones like cake or biscuits, then something has to replace it.
"It tends to be sugar – the calories in digestives and low-fat digestives are almost the same, " Prof Jebb continued.
"Lots of yoghurts are rammed with sugar, that is the thing that riles me about yoghurt."
There is a simple answer with yoghurt – a few brands are both low in fat and sugar, although I need to chuck in a little bit of fruit to make it palatable.
But what about the example that we should be feeing more fat?
Some have argued that the message about cutting all fats when discussing bad saturated fats from processed foods was oversimplified.
While others have constructed the example that preferring carbohydrates in our diet – especially refined carbs like white bread and pasta, is playing havoc with our hormones to increase the risk of form 2 diabetes and constructing us pile on the pounds.
---
More from our Diet Debate series:
Read: Is breakfast a waste of time ?
Watch: How healthy is your breakfast ?~ ATAGEND
---
Fatty joy?
We do all want fat in our diet – it contains essential fatty acids and is important for assimilating fat-soluble vitamins such as A, D and E.
The question has always been: "How much fat should we eat? " And the mantra has been low-fat, high-carb.
The World Health Organization advises that between 30% and 35% of our calories should come from fat arguing there is "no probable or convincing evidence" that the total amount of fat in our diet is altering the risk of cancer or cardiovascular disease.
So when it comes to the total amount of fat( and there is a separate debate when we come to consider different types of fat) it's actually a question of how it affects our waistlines.
And fat is certainly calorific.
A gram of fat is worth around nine calories – twice the amount as carbohydrate or protein at four calories per gram.
Too much fat, like too much of anything, will build you put on weight and it is incredibly easy to overeat calorie dense foods.
So it appears to be an easy target for people trying to lose weight.